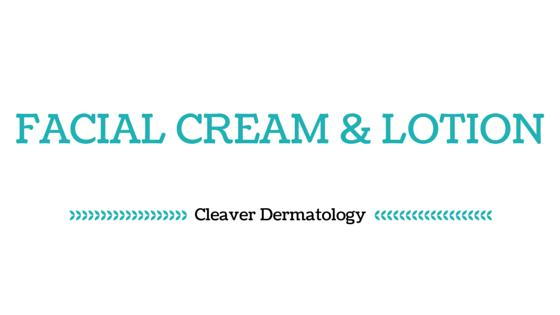 Cleaver Dermatology has a line of skin care
products including facial creams and lotion.
Our skin spa staff can help you choose the
right one for your skin's needs.
 
Our Antioxidant Moisturizer with Green Tea is
the best value moisturizer on the market. This
is a fast absorbing, silky lotion that helps to
restore and maintain a healthy skin barrier
function while preventing moisture loss. It is
specially formulated, with Green Tea
Polyphenols and caffeine, to deliver a blend of nourishing protective antioxidants. Due to being oil free
and non-greasy this moisturizer is ideal for all skin types and can be used as a face or body moisturizer.
 
The Lite Hydrating Cream is formulated with vitamins A, C, E, Co-Q10 and Green Tea Extract with
glycerin and squalane to deliver smooth and softer skin.This ultra lite cream is ideal for any person who
is not overly dry, but requires a light moisturizer. It is oil free and can be used for people suffering from
acne.
 
The Hydrating Cream is similar to the Lite Hydrating Cream, but is ideal for people with dry skin that
require a heavy, elegant moisturizer.
Our Exfoliating G15 Cream is a hydrating cream that uses the power of glycolic acid to smooth your
skin. It works to minimize the appearance of fine lines, wrinkles and pore size. Excellent as a day or
night cream (probably not everyday), it gently exfoliates dead and dull skin, increases moisture
retention, enhances texture, improves skin tone and promotes smoother looking skin.
If you think any of these could be a good fit for your skin care regimen, let our staff at the skin spa help
you! No appointment needed, the ladies are here to help you by phone or walk in!