Cleaver Dermatology wants to introduce you to our line of calming products.
Our product line is simple, inexpensive, and results driven. Cleaver Dermatology products are manufactured by a pharmaceutical company rather than a cosmaceutical company. Due to this, our products have purer ingredients. Better ingredients for better results. Dr. Cleaver wants scientific proof on any product before he endorses it. Why would you want any less?
If you are still unsure, come in to talk to our staff in the spa! They will help you narrow down what products are best for you.
---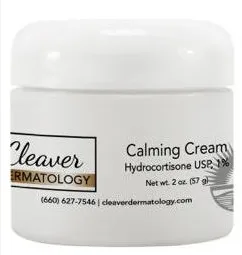 Calming Cream
This ultra soothing formulation contains the purest grade of aloe vera with hydrocortisone and offers temporary itch relief caused by minor skin irritations, rashes and post-procedure skin conditions. It is oil free, fragrance-free and non-comedogenic.