Cleaver Dermatology wants to introduce you to our line of facial moisturizers!
Our product line is simple, inexpensive, and results driven. Cleaver Dermatology products are manufactured by a pharmaceutical company rather than a cosmaceutical company. Due to this, our products have purer ingredients. Better ingredients for better results. Dr. Cleaver wants scientific proof on any product before he endorses it. Why would you want any less?
If you are still unsure, come in to talk to our staff in the spa! They will help you narrow down what products are best for you.
---
Antioxidant Moisturizer with Green Tea
This is the best value moisturizer on the market. It is a face, neck, decolletage and body moisturizer. This silky, fast absorbing lotion helps to restore and maintain healthy skin barrier function while preventing moisture loss. Specially formulated, with green tea polyphenols, to deliver a blend of nourishing protective antioxidants. It also has caffeine and is oil-free, non-greasy and ideal for all skin types.
---
Repair Eye Cream
This sophisticated retinol eye cream is clinically proven to visibly reduce the appearance of dark under-eye circles, puffiness, fine lines and wrinkles. It is formulated with a system of therapeutic ingredients including all-trans retinol, green tea, arnica, and vitamin K peptides to help repair, support and protect the skin matrix in the delicate under-eye area.
---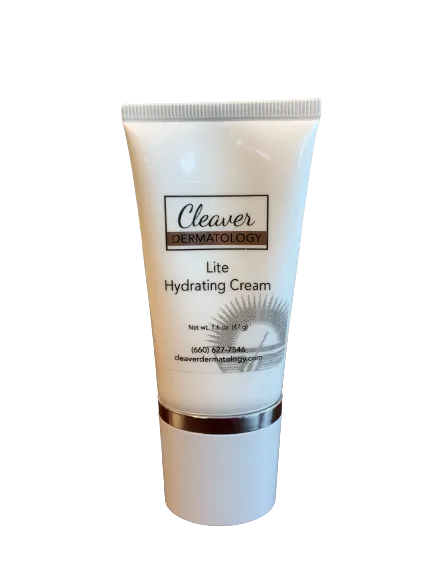 Lite Hydrating Cream
Our Lite Hydrating Cream delivers smoother, softer skin with vitamins. It contains vitamins A, C, E, Co-Q10 and green tea extract along with glycerin and squalane. This ultra lite cream is ideal for the patient who is not overly dry but requires a light moisturizer. This cream can be used for acne patients and is oil free.
---
Hydrating Cream
Our Hydrating Cream delivers smoother, softer skin with vitamins. It contains vitamins A, C, E, Co-Q10 and green tea extract. This fortified cream is ideal for the dry skin patient who requires a heavier, but elegant moisturizer.
---
Exfoliating G15 Cream
This hydrating cream uses the power of glycolic acid to smooth the skin. Minimizes the appearance of fine lines, wrinkles, and pore size. Gently exfoliates dead and dull skin cells, increases moisture retention enhances texture, improves skin tone and promotes smoother looking skin. It is excellent as a day and night cream, but probably can't be used every day.
---
Essential Antioxidant Mist
Mist fortified with a rich blend of antioxidants to brighten dull, tired skin and refine your complexion. Micronutrients help enhance skin tone and remove dead skin impurities, while powerful humectants provide gentle hydration.
---
Hyaluronic Hydrating Serum
Ultra-hydrating serum quenches dehydrated skin for a supple, smooth complexion. Visibly reducing the signs of aging, skin appears brighter, firmer, and rejuvenated.
---
Intensive Hand Cream
This cream provides enhanced long lasting skin moisture protection. Helps to prevent dry chapped skin.
---
Restorative Night Cream
This moisture-boosting, decadently rich night cream that nourishes dry skin back to optimum health.
---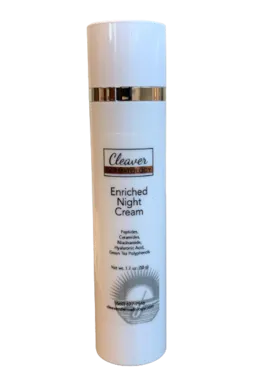 Enriched Night Cream
Intensely moisturizing night cream combats dryness and nourishes skin back to optimum health. High performance ingredients work synergistically to nourish and repair the skin's barrier function, restoring skin firmness, and visibly reducing signs of aging. Awaken to younger, hydrated, healthier looking skin. Features a multi-targeted system of high performance ingredients which aid in the skin's hydration: Biomimetic Ceramide Complex, Peptides, Hyaluronic Acid, Niacinamide, Stem Cells, and Antioxidants.
---
Neck Firming Cream
Formulated with a proprietary blend of active ingredients to help support healthy collagen and elastin production, to skin, that has lost definition with age. This cream was developed especially for the neck and décolleté to hydrate, firm, lift, and tighten skin while delivering antioxidant protection