Cleaver Dermatology realizes there are numerous products out there for you to choose from. Brand, product and price are all important factors you will be keeping in mind.
Our product line is simple, inexpensive, and results driven. Cleaver Dermatology products are manufactured by a pharmaceutical company rather than a cosmaceutical company. Due to this, our products have purer ingredients. Better ingredients for better results. Dr. Cleaver wants scientific proof on any product before he endorses it. Why would you want any less?
If you are still unsure, come in to talk to our staff in the spa! They will help you narrow down what products are best for you.
---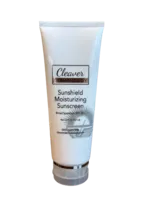 Sunshield Moisturizing Sunscreen SPF 50+
This advanced antioxidant sunscreen has been specially formulated with highly refined zinc oxide and an advanced technology.

Oil Free
Paraben Free
Sensitive Skin Friendly
Excellent Makeup Primer