Cleaver Dermpath is accredited by the Healthcare Facilities Accreditation Program (HFAP) and is CLIA certified. Our professional customer service is available to answer any questions that you may have, with a direct phone line so that you never reach an answering machine during business hours. Telephone consultations are available with the dermatopathologist during business hours Monday to Friday. Numerous internal quality control and assurance protocols are in place to ensure the highest standard of quality care for each specimen, treating your patients as our own. Any case that requires molecular studies or genetic profiling will be sent in consultation to world class diagnostic centers that specialize within the particular histologic field (hemepath, soft tissue, pigmented lesions, etc.).
The immunohistochemistry stains that we currently offer include:
S100
Melan-A
Sox-10
HMB-45
CD1a
CD3
CD4
CD7
CD8
CD10
CD20
CD30
CD34
CD68
Factor XIIIa
CEA
EMA
Desmin
CK20
AE1/3
The special stains that we currently offer include:
Periodic Acid Schiff Stain
Perl's Iron Stain
Alcian Blue Stain
Trichrome Stain
Gram Stain
Methenamine Silver Stain
Elastic Stain
Acid Fast Bacilli Stain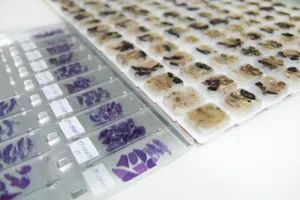 Note - at this time, we do not currently perform studies for direct or indirect immunofluorescence.
---